Pizza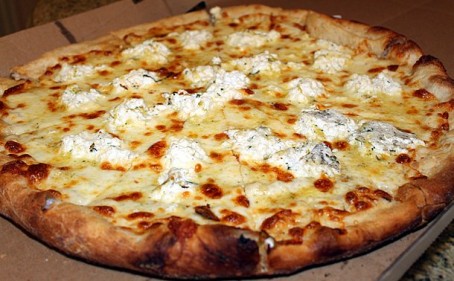 Build Your Own Pizza
Our basic pizza comes with cheese and sauce. Add toppings as you like!
Hawaiian Pizza
Ham, Pineapple
Di Spinachi Pizza
Spinach, Mushrooms, Garlic, and Feta Cheese

Armenian Pizza
Tomatoes, Basil and Feta Cheese, Without Sauce!
Vegetarian Pizza
Onion, Bell Pepper, Black Olives, Fresh Mushrooms
Mexican Style Pizza
Pepperoni, Ground Beef, Chorizo, Jalapeños, Onions, and Cilantro
Deluxe Pizza
Pepperoni, Salami, Ham, Bell Peppers, Onion, Black Olives, and Cilantro
BBQ Chicken Pizza
Chicken, Red Onion, Mushrooms, Cilantro, BBQ Sauce
Meat Lovers Pizza
Sausage Pepperoni, Bacon, Ham, Salami

Margarita Pizza
Fresh Basil, Garlic, Fresh Tomatoes, Fresh Mozzarella Cheese
Margherita with Spinach Pizza
White pizza with roasted garlic sauce, crispy bacon, onion and fresh mozzarella.
Quattro Formaggi Pizza
Fresh mozzarella, gorgonzola, parmigiana and mozzarella.
Pesto Chicken Pizza
Pesto sauce, cheese and chicken.
Chicken Alfredo Pizza
Alfredo sauce, cheese and chicken.
White Spinach Pizza
White sauce, roasted garlic, spinach and artichoke.
Doner Pizza
White Pizza with Roasted Garlic Sauce, Crispy Bacon, Onion, Mozzarella
Calzone
Choose up to three toppings.
14" Medium Pizza and Wings Deal
14" Medium Two Topping Pizza with 8 Pcs Chicken Wings and 2 Cans of Soda
16" Large Pizza and Wings Deal
16" Two Topping Pizza with 12 Pcs Chicken Wings and One 2 Liter Soda.